Key West - Sailing Adventures / Classes

Description
Northern Breezes offers Sailing Adventures / Classes in Key West, Florida. You will have an opportunity to do many different learning adventures as well as sail just for fun while participating at your chosen level. Earn your Basic Coastal Cruising and Bareboat Charter skipper certifications in one week in paradise. We offer everything from Basic Keelboat through Advanced Coastal Cruising including "Big Catamaran" Cruising Multihull. Our Destination Adventures specialize in fun, although some of the offshore trips can be quite challenging. We also offer Destination Adventures which require no sailing experience, but welcome your participation. We even have a Sail & Dive option. You can sail as individuals, couples or as a family in which you have the whole boat! All of this in the world's most perfect winter cruising grounds – Key West.
As you learn and practice navigation, docking, anchoring and skippering skills we will stop to snorkel, swim and enjoy lunch. We will sail amongst sea turtles and dolphins.
You will return home with a tan, fantastic photos, lifelong memories, and Bareboat Charter skipper certification so that your next trip to the islands can be as skipper of your own chartered yacht!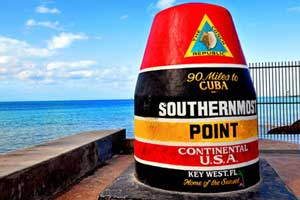 How to get to Key West
After flying to either Key West or Miami and driving to Key West. Participants will sail aboard a 39 to 55 foot sailing yacht.
Fly into Miami or other connecting airports and on to Key West or, come a day early and drive down the keys to Key West which is an experience in itself. We have found flying into Miami and driving or taking a shuttle to Key West is the most economical. Flying to Key West itself can be more convenient.
Course Outline
Shore School in Minneapolis, MN (not mandatory): Boat Systems General, Battery, Basic Electrical, Basic Engine, Prop Walk, Sail Trim, Rules of the Road, Sound Signals, Buoys & Lights, VHF, Safety Systems, Heavy Weather Sailing, Written Exam.
Onboard
Safety Orientation, Boat Systems, Reefing, Heaving to, Anchoring, Cruising Tips, Navigation, Galley Safety, Meal Planning/Preparation, Docking & Undocking, Setting Sails, Crew Overboard Drills, Chart Problems, Emergency Procedures, Dinghy Operation.
Boarding. Board the yacht on the first day after 5:30pm at Charter Base. Set sail the next day after orientation. Learn cruising skills while living aboard. Arrive back in port on the last day and leave before noon.
Provided Each Week
All course textbooks, exams and certifications. Berth onboard, linens, towel, snorkeling gear, all breakfasts and lunches onboard plus one dinner, beverages, evening tropical drink.
Not Provided
Five dinners and one lunch ashore, extra beverages. Please bring beach towel, deck shoes, casual clothing for 80 degree average temperatures including light rain gear and a light jacket for cool evenings.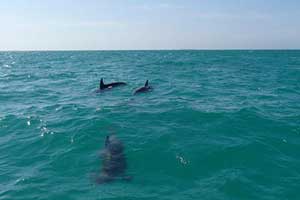 Course Fee
$2,195 single/shared cabin (may include 8-hour optional February shore school). $4,295 single/whole cabin. ASA Bareboat Chartering Only: $2,145. Non-student: $2,095. Couples' discount: $4,295. ***Couple Definition: Two people who wish to share a cabin.***
Note: Two ASA Certifications are included in the price for each Certifier. Additional ASA Certifications are charged an extra $95 per Certifier.
Couples Pricing includes one set of course textbooks to share. Additional course textbooks may be purchased.
Cancellation Policy
Full refund less cancellation fee for cancellations at least 60 days before scheduled course/event. 50% refund for cancellations made 30-59 days before course/event.
No refund for cancellations within 29 days of course/event, although we will try to work with you.
CLASS SCHEDULE
2018 Schedule: Key West Adventures / Classes

January 10 – January 17, 2018
January 17 – January 24, 2018
February 7 – February 14, 2018
February 14 – February 21, 2018
March 7 – March 14, 2018
March 14 – March 21, 2018
April 4 – April 11, 2018
April 11 – April 18, 2018
Other dates can be scheduled.
2018 Schedule: Miami, Florida Adventures / Classes

April 27 – May 4, 2018
May 5 – May 12, 2018
Prerequisite for this course
None.
Call Northern Breezes Sailing School at 763-542-9707 to register or with questions.