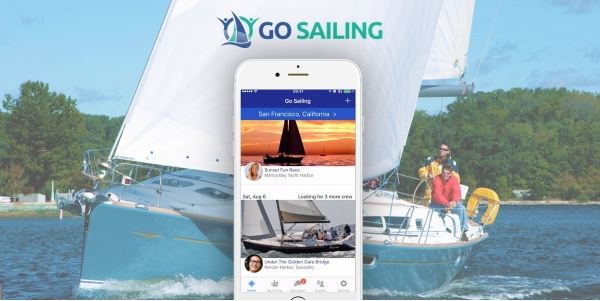 Go Sailing, sailing's free social-media app that keeps sailors connected and sailing, has announced an update which will expand and refine its services to be available internationally. Part of the update will include trip list filters for an enhanced browsing experience and the ability to schedule sailing related events worldwide.
The sailing communities' remarkable acceptance of the app has demanded that we expand its capabilities and availability to truly connect the entire sailing world. Starting immediately, the Go Sailing App will be available to download on iPhones and Androids in 110 countries and on the Internet (www.gosailingapp.com) all around the world!
Enhanced by its support from the American Sailing Association's network of over 330 affiliated sailing schools worldwide, the Go Sailing App has access to millions of active sailors looking for like-minded people to Go Sailing. "Wherever you're looking for crew on the Seven Seas, Go Sailing is there," says Go Sailing Project Manager, Tim Ridderbush. "Anywhere you get cell reception from the Red Sea to the China Sea, from Cape Horn to the Cape of Good Hope, Go Sailing is available to help you find crew."
Simply download from the App Store or Google Play, or go to www.gosailingapp.com and create your profile and join the thousands of active Go Sailing sailors. Don't delay because sailing events, races, and trips are occurring as you read this.
About Go Sailing
Go Sailing is a free mobile app presented to the worldwide sailing community by the American Sailing Association as a public service. Developed to make the sport accessible to everyone, Go Sailing removes many of the barriers to entering the magical world of sailing. Most common are boat ownership and sailing partners. Since its inception, Go Sailing quickly developed a large community of users in California, and now aims to connect the millions of sailors around the world looking to do more sailing with skippers everywhere looking for crew, as well as to new friends and sailing-related social events